Stella's 1st Birthday Rainbow Party!
September 12, 2011 | FILED UNDER: Holidays / Parties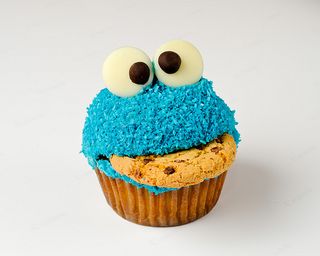 Stella is turning the Big 2 in a matter of days and we are having a small Sesame Street birthday party for her at our home this coming weekend. I've been thinking back to the fun I had planning her 1st birthday party last year, and thought I would do a post on it for memories' sake.
The inspiration for the party was
this rainbow cake
I had seen made on the Martha Stewart show. I loved it, and I loved the challenge of actually trying to make it successfully!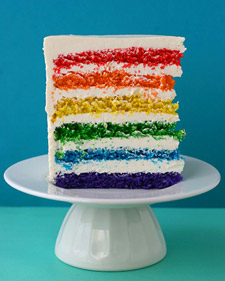 Turns out it wasn't too hard, just required stocking up on circular cake pans, gel food coloring, and lots of homemade butter cream icing! I mimicked the colored layers on the inside with rows of M&Ms on the outside of the cake: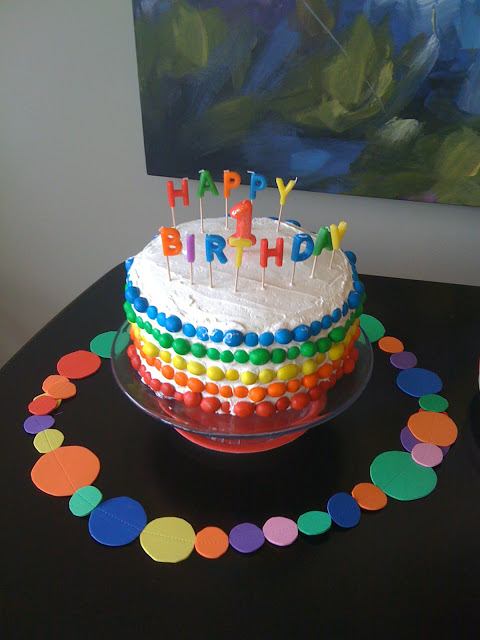 Extra M&Ms were sorted by color into separate dishes for a rainbow effect: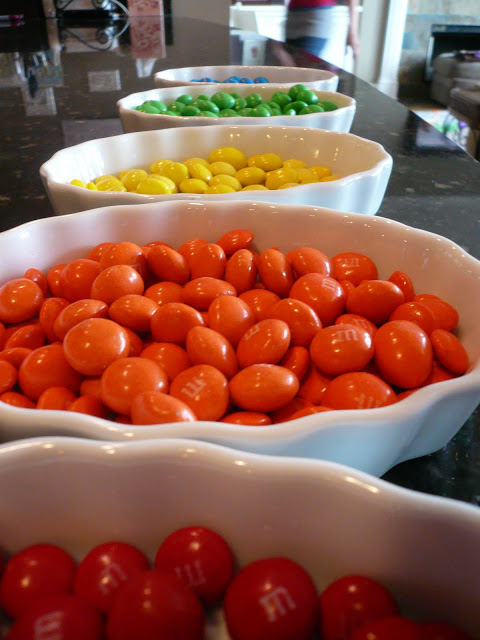 I also made her invites, using a rainbow-esqe graphic I found on Google images. The reverse side of the invite was some glittery rainbow striped craft paper: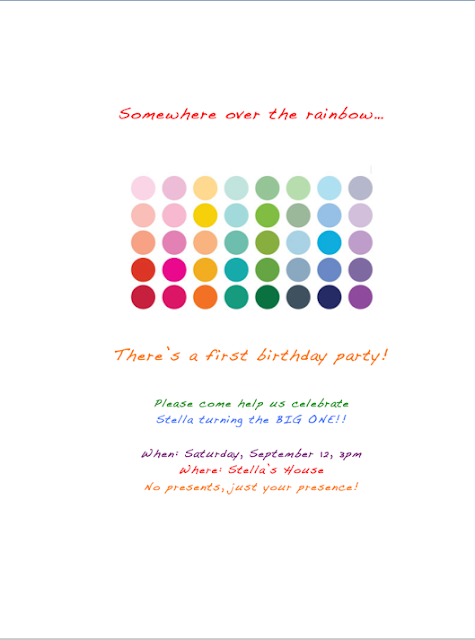 The decorations were simple, with this multi-colored garland as the main attraction: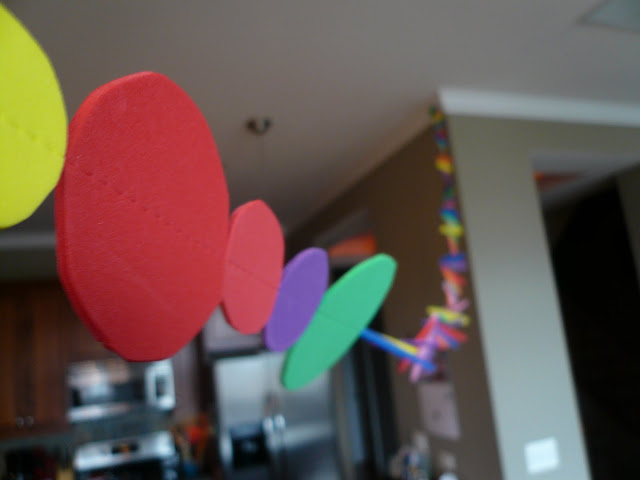 I had seen the idea on
this blog
, and thought it was so cute. While the original garland was made of felt, I used sheets of multi-colored craft foam. All I did was cut out different sized circles, mix up the colors randomly, and then run them through a sewing machine with some clear thread. My sewing skills are nearly non-existent, but this was as simple as turning the machine on and stepping on the foot pedal while running them through.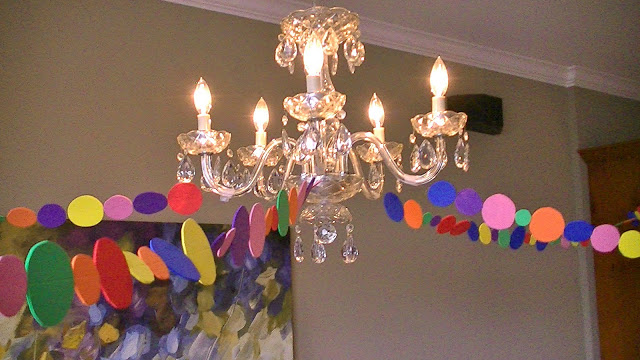 I also made a banner by free hand cutting out letters from some more of that nifty craft foam.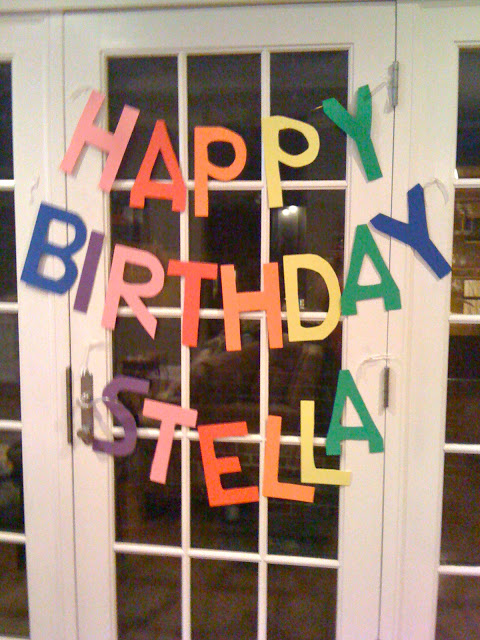 Finally, no rainbow party is complete without the birthday girl donning a rainbow outfit! Both the shirt and skirt came from Etsy…an awesome source for special birthday attire: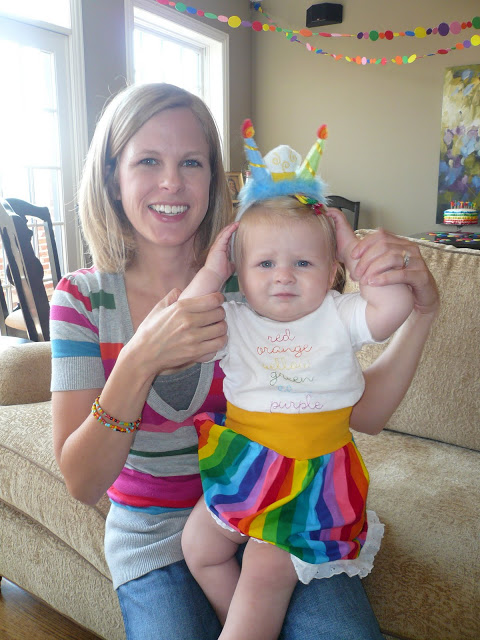 Too bad she refused to eat that cake I slaved over. This year I'm using a mix!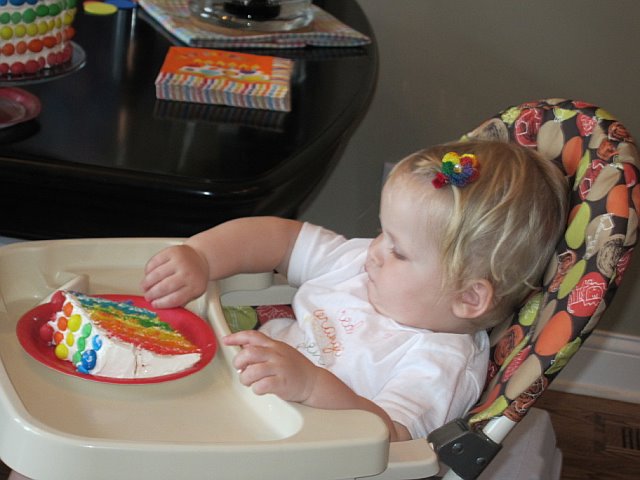 Last year I went all out (I mean you only turn 1 once!). This year her party will still have a homemade feel, but I outsourced most of it to very capable Etsy crafters… a result of having a 2 year old and a 2 month old to eliminate any free time for crafting. Here's a sneak peak at the one piece de resistance that I hope to make!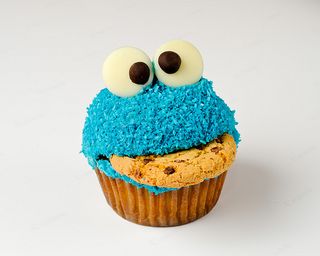 Stay tuned for more pics from the party!