Goodbye Summer, Hello Fall!
September 21, 2011 | FILED UNDER: Uncategorized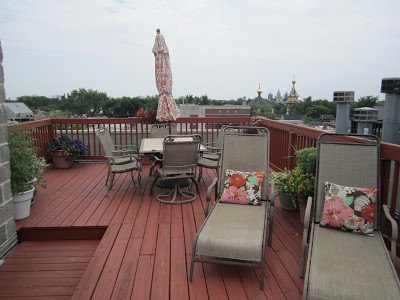 Fall is officially only 2 days away and while it is truly my favorite season, I sure will miss summer. I will especially miss hanging out on the roof deck, even for just a few minutes a day to take care of my plants and take in a view of the Chicago skyline. My flowers sadly are starting to fade as the nights get cooler, so I thought for one last hurrah, I would show them in their late summer glory a few weeks ago…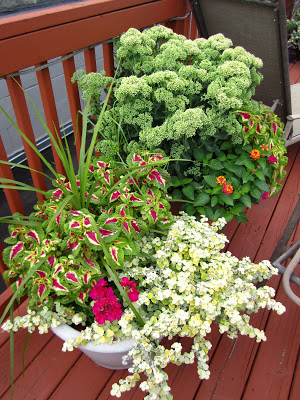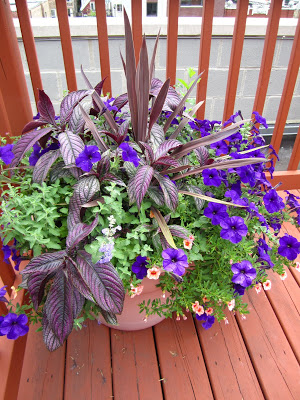 My eventual dream home includes a big sunny patch of yard for a garden but until then I am determined to grow as much as I can in pots. Every summer the number of pots on my deck seems to increase 3-fold and along with it the amount of flowers I purchase…putting a big dent into my hypothetical 'simple pleasures' budget my husband has held me to. This year I had promised myself I would cut back on the plants since I had a baby due mid-summer, but I think I actually have more now than ever before. It's a disease really…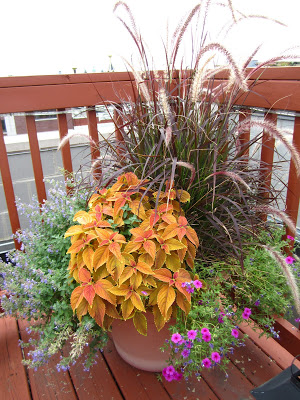 Every summer I try to start with a plan for my flowers by looking through my magazine clippings, thinking about color combos, etc. but the plan always quickly seems to go down the drain as soon as I get to the nursery and end up going nuts picking from all the different plants to choose from.
After 5 summers of attempting to grow plants in the full sun, windy conditions of a Chicago roof deck, I've learned a few things about what works well and what doesn't. And I'm continuing to learn. For every 10 plants I pot I probably manage to kill 3 of them off every summer… a 70% success rate!
Lessons learned:
1. Drainage, drainage, drainage: the quickest way to kill a plant is to put it in a pot a without a drainage hole. It will die after the first rainstorm or an overwatering. I don't even use saucers under my pots on the roof because if there is too many days of heavy rain it can start to make the dirt soggy
2. Water, water, water: the reason you need good drainage is that you have to water regularly…. like at least every other day or every day during the hot days of August. This is the most annoying part, but so important! That and Miracle Grow added to the water every couple weeks is like magic for your plants.
3. Stick with tried and true plants: there are a handful of plants that I've found to do best in full sun / in pots and buy them year after year:
— Purple fountain grass is my absolute fave and looks great in the center of a big pot
— Lantanas come in tons of cool color combos and love hot sun and bloom all summer
— Geraniums and petunias – while pretty run of the mill, are always very forgiving and add a lot of color
— Licorice plant (lime green foliage) is great accent for a pot
— Full sun coleus (there are lots of different types and not all do well in sun) adds a lot of color
4. Buy more plants than you think you'll need (I'm not just saying this to rationalize my overspending!). That's why the pots at the nursery always look so good, they are chock-full of plants. Plus, it helps to have extras when you accidentally kill a few off. I am often rearranging plants from one pot to another during the summer to fill in holes, add more color, etc.
5. Make sure every pot has at least one "thriller" (i.e., tall focal point like fountain grass), "spiller" (a vine or other flower that trails off the side), and "filler" (mid-size plants like geraniums or coleus that grow in clumps). Without this secret recipe, a pot of flowers can just look "off"