Stella's Big Girl Room – Nearly There!
June 29, 2011 | FILED UNDER: Uncategorized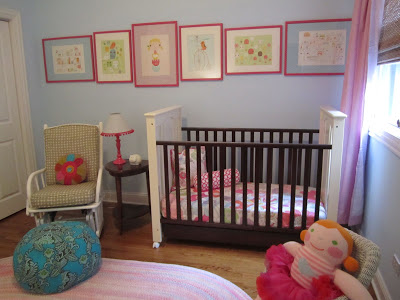 So Stella has been settled into her big girl room for a month now, but my blog posting has clearly taken a back seat as the arrival of Baby G #2 quickly approaches (a matter of days now!). But I wanted to make sure I got at least a few pics of the "nearly-finished" project up before the new baby arrives.
The good news is that Stella loves her room and the transition from her nursery to the new room was about as smooth as we could have hoped for. She really likes to play and read in there, and I think getting the exact same crib for the new room (and switching over her old mattress), really helped.
So here it is! Same blue walls as were in the office, with hot pink accents and lots of different prints. I got a 5×8 oval braided rug with a mix of pastel colors to tie it all together. Stella loves playing and rolling around on the soft rug with her blankie!
Close up of the recovered rocking chair, repurposed lamp, and heart-shaped bedside table found on Craigslist:
Love this floral print from Pottery Barn kids: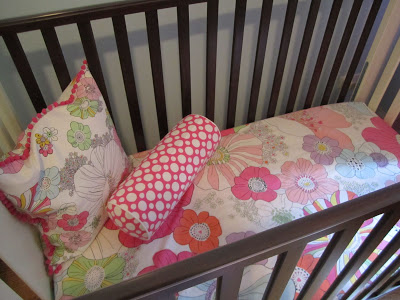 On the opposite wall from the crib, I've repurposed the storage unit from the office into a big toy box / book storage. Still a work in progress (i.e., a mess!), but a great place to stash growing collection of stuff, and easy for Stella to get to.
Rocking chair and stool from antique fair. Unfortunately, Stella doesn't want to sit in her rocking chair, so it has instead become the favorite spot for her massive doll, Pumpkin. More work to be done on this wall…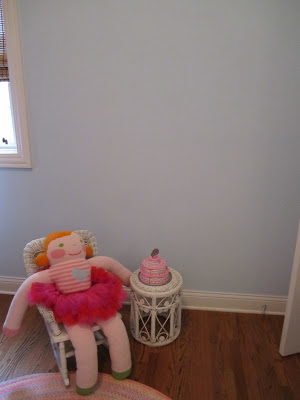 I moved the dresser into the closet to allow for more wall space for toys in the room. So far it is working well. As you can see, I couldn't resist spray painting the knobs pink: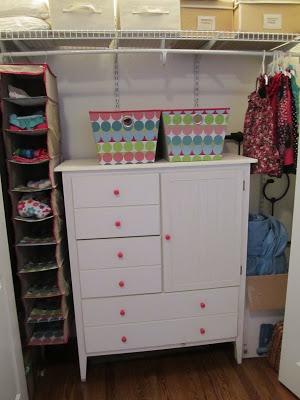 Book rack still to be hung up… along with a few more things on the walls and the new pendant drum lamp and the room will be complete!