Stella's "Big Girl" Room: Inspiration
March 30, 2011 | FILED UNDER: Uncategorized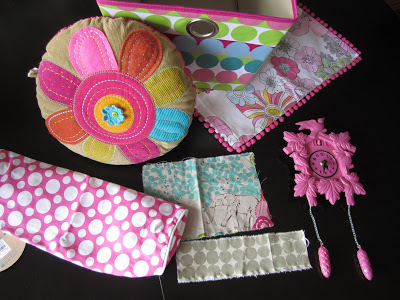 The clock is ticking for us to turn our office into a bedroom for Stella to make way in the nursery for Baby #2. We've set May 1st as our target date for getting Stella into her new room, in hopes that it will give her some time to adjust before the baby arrives. We'll see if we make that ambitious deadline – so far all I've done is dream up ideas for the room. Now it's time to get to work!
Over the course of browsing the internet for ideas, I decided to print out my favorite images and put them together into a bit of an inspiration board…just like the real designers do – ha! I must have too much free time on my hands. :>)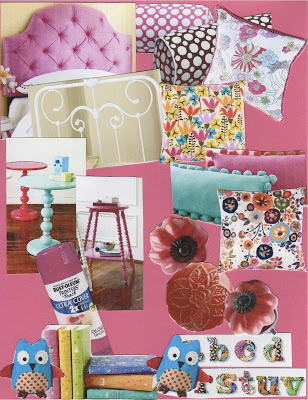 Since Stella's safari nursery was pretty gender neutral, my vision for her big girl room is a little more girly, but more bohemian / eclectic than princess-y. Because I'm too lazy to paint the existing light blue walls, they are going to stay blue, but I'm going to incorporate lots of hot pink accents and fun patterns – florals and polka dots in bright colors.
I have an iron scroll headboard like in the above picture, that I was dreaming of spray painting hot pink for a big girl bed, but after consulting with several moms I realized I would be crazy for trying to move Stella out of her crib this early… so I'll have to hold off on that one, although it sure would be cute!
I loved the hot pink cuckoo clock in the above picture, and bought it from Company Store Kids. The little mini pictures of owls, whales, etc. above are prints that I plan on framing in hot pink frames for the main art in her room.
Here's a smattering of the things I've collected so far – I love seeing them all come together. I have 5 of the polka dot bins to store her toys in. The other things are some funky pillow covers and fabric scraps that I considered using to reupholster a rocking chair. More on that and the ongoing project to come!