Living Room Spruce Up
March 14, 2011 | FILED UNDER: Uncategorized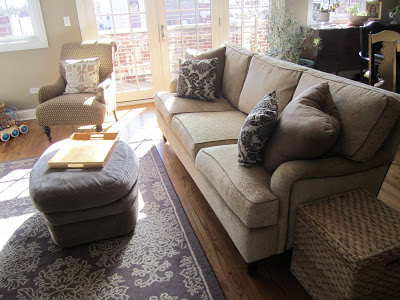 This past week, I did a bit of a swap out of some pillows and furniture in our living room to give it a spring makeover. I consider it 'Stage 3' of my ongoing attempt to spruce up our living room over the years. Here is a short history of the three stages before the "reveal" of the new room!
Stage 1 – "New Home Owners" Period 2006-2009 ;>)
For our first several years here we kept things pretty neutral (aka 'boring'), as evidenced by the brown overstuffed couch and chair Ross first acquired after college, the cream colored shag rug that had a penchant for shedding little white fur balls all over the house, and the white built-ins: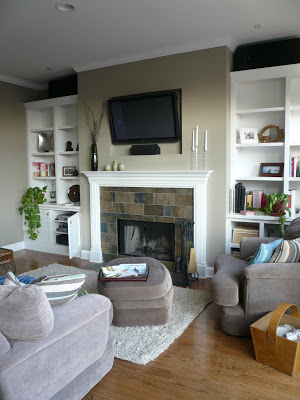 By 2009, the shedding rug and the sagging furniture were just begging to be replaced. The first fix came through this purple rug from Target:
Stage 2 – "New Baby Period" 2009-2010
Being home during the day with Stella gave me more time to tap into my "Inner Martha" and dream up new plans for our living room. Hence, Stage 2 consisted of painting the built-ins purple to coordinate with the rug and plunking down some money for a new couch and chair: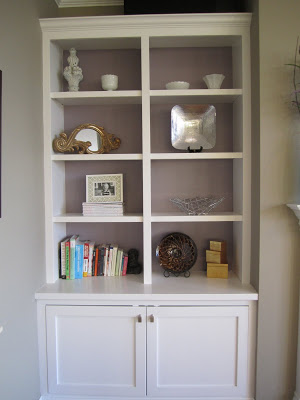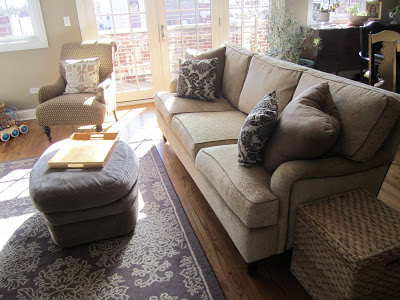 New furniture helped tremendously, but you can see above that we held onto the poor old ottoman as a makeshift coffee table and the couch was still a little sad from lack of color. Hence, Stage 3!
Stage 3: "Much Improved!" Period 2011
Three relatively inexpensive purchases made all the difference in the living room:
1) A new grey tufted ottoman with storage to replace the old sagging ottoman ($130 from Overstock.com)
2) A new wood carved drum table to provide another much needed 'end table' for setting drinks, remotes, etc. ($120 from World Market)
3) Two new floral pillow covers to cover plain brown pillows on couch ($45 from Etsy)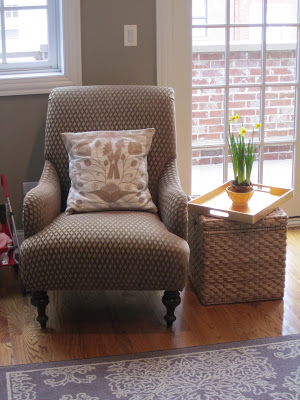 A couple lessons learned from my experimenting in the living room:
1) Pieces that are easily moveable or have built-in storage are great, especially with kids. Rather than a big coffee table or end tables, I like that we can move around the ottoman, drum table, and wicker box to provide a space to put our feet up or put drinks / food on. Better yet, the ottoman has enough space to store a couple throws and the wicker box is actually storage for some of Stella's toys
2) Neutral pieces aren't bad as long as you mix different textures / patterns. I especially like how the 'natural' materials like the wood carved table and wicker look
3) Adding color and pattern through pillows is the easiest change you can make. Often you can just buy pillow covers (Etsy has tons of them) and swap out the covers on the pillows you already have. It's cheaper than buying a full pillow, and then you don't have to figure out what to do with your old pillows!
4) Wool rugs are some of the nicest, but the shedding is annoying. The rugs being made with new materials like Olefin don't shed and seem to be easier to clean / care for – plus they're typically considerably less expensive
Finally, for full disclosure my living room never actually looks like the pics above… at least not for more than 10 sec. at a time. Thanks to my 17 month old, it typically looks like this or worse: