The Joys of Craigslist
March 04, 2011 | FILED UNDER: Uncategorized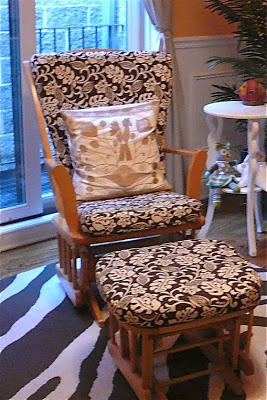 I'm sure by now all of my informed readers (if there are any readers out there – ha!) have used Craigslist a time or two to buy or sell something. So you too probably appreciate Craigslist as much as I do. It really is an amazing source to find just about everything for the home, if you are willing to do some legwork.
We recently found a great wood 'secretary' for our bedroom on Craigslist. We were in the market for a new desk for Ross since his office will soon be out of commission with the arrival of the baby. The desk we currently have is a bit too big (it's actually dining room table) – so we plan on selling it on Craigslist (of course!). In the meantime, I fell in love with this, so we picked it up last weekend: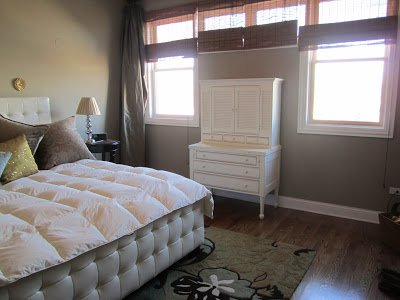 It fit perfectly in the little spot between the windows, and matched our decor nicely. Most importantly, it was a unique solid wood piece made in the USA that was in really good shape. In addition to having some much needed storage, it folds out into a little desk: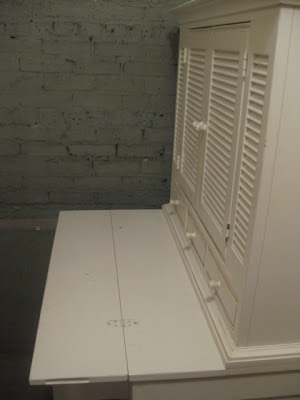 One thing I love about buying stuff on Craigslist, is that each thing you buy has a story attached to it. We bought this desk from a 20-something girl in Hyde Park who was given the desk for her 10th birthday by her parents. They had bought it at a furniture store in Alabama. Had we bought this new at a furniture store today it would have cost 5 times as much. We got it for $250
Here's some tips I have for buying on Craigslist:
1) It can get overwhelming to wade through all the posts – especially if you are looking for something like a "desk" or a "chair" for which there hundreds posted daily. Try to use specific keywords to narrow search like "white desk" or "tufted chair" and narrow your search to specific geographic areas like "City of Chicago" or instead of all of Chicago area. No need to drive out to the suburbs unless you really want something!
2) If you want something in particular, invest some time scanning all the relevant posts in your first search, then be vigilant about checking back every day. This makes it much quicker, because Craigslist will mark the posts you've already viewed so you only have to read through the new posts at the top of the list that have been added in the last 24 hours
3) Skip over anything that says IKEA in the post! Really, who wants second hand IKEA stuff?!
4) Skip over anything that doesn't have a picture, has a very poor / blurry picture taken of it, or is covered in junk in the picture. All signs that the seller probably didn't take good care of the piece!
5) The more information the seller offers the more confident you can be that you are getting a quality piece from a trustworthy seller (dimensions, brand info, what they bought it for, pictures of any dings / scratches, etc.)
6) Look for stuff that is unique and you can't buy just anywhere – such as things that are solid wood (easy to repaint / refinish if you want down the road), older pieces, etc.
7) If you're like us and don't have a big truck to move a piece of furniture (and happen to live up 4 flights of stairs), don't let that prevent you from buying something. You can find lots of 'two guys and a truck' moving services on Craigslist (of course!) that will pick up and deliver the piece for around $75 / hour. That's how we got the desk to our place.
8) If you are serious about a piece – act quick! Things don't last for long
This post is getting long, but I couldn't resist showing the other things I've nabbed on Craigslist…
1) My plant table is an old wood buffet we got for $75 from a couple in Oak Park. It was left in the dining room of their craftsmen bungalow when they moved into the place. I wish I knew more about how old it is… I'd like to repaint it someday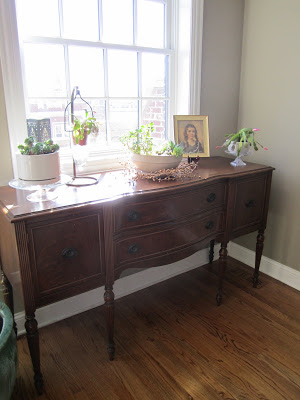 2) This storage unit was from a owner of a condo building that had bought it to stage one of the units:
3) Got this rocker for $50 from another mom. She had gotten it from another mom, so it has been handed down a few times, but is in really good shape: