Some Vacation Inspiration…
February 17, 2011 | FILED UNDER: Uncategorized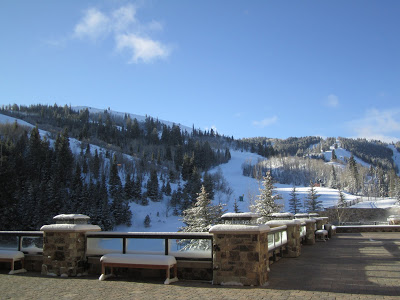 I haven't blogged in awhile, because Ross and I decided to escape the cold and snow in Chicago last week… for more cold and snow in Park City, UT! We cashed in some Starwood points to stay 5 nights at the St. Regis Deer Valley. It was a getaway of pure relaxation, not to mention plenty of inspiration for me provided by some of the beautiful furnishings and fixtures used at the hotel.
I love the feel of a mountain lodge with fireplaces blazing, mix of wood and stone textures, and lots of warm fabrics and colors. The St. Regis had all of this going for it, with a little bit of glitz. I'm including some pictures of my favorite things below…
I absolutely loved these two gold chandeliers that I thought were a little unexpected and super cool. The lighting isn't great in this first pic, so it's a little hard to see, but this chandelier was made of of strands of tiny gold beads, like necklaces: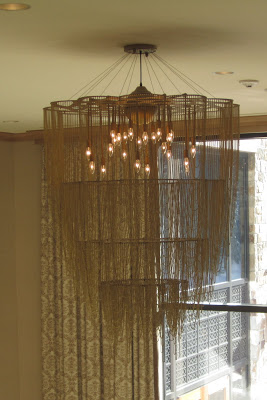 I loved the gold balls of different sizes forming this chandelier. What I would do for one of these in my dream home!
This two-story fireplace in the hotel lobby was stunning (you can see the chandelier hanging in front of it):
I thought the pattern of the stones on the inside of the fireplace was a particularly cool touch:
Of course, nothing can beat the mountain views!
I thought this picture I took up close of a pine tree after a fresh snow would be a pretty one to frame:
The vacation allowed me plenty of time to do some of the things I enjoy most, like drinking coffee and reading the paper!!