Stella's Nursery: Improvised
January 12, 2011 | FILED UNDER: Uncategorized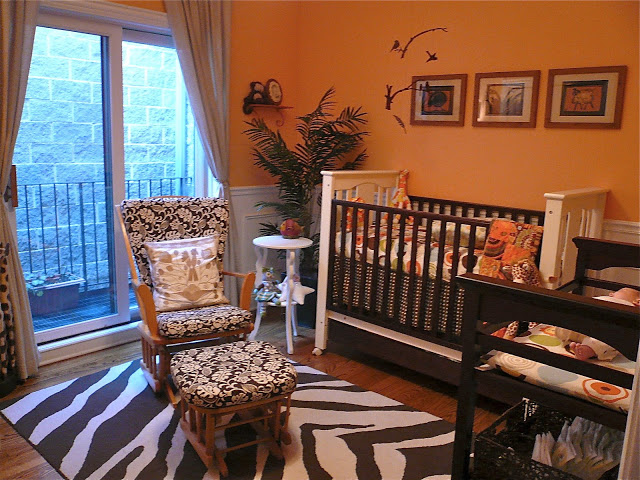 And here is how Stella's not-so-girly nursery turned out. Many of these pictures are from when she was just a wee one (and her crib mattress wasn't lowered down to the bottom to prevent her from climbing out!):
The transformation from the office to the nursery began with painting the walls an orange (but not too orange!) color called Autumn Mist by Behr. Ross wanted more of a "Texas Longhorn Orange", but I thought that bright of a color would give the poor girl nightmares. The other big change was replacing our blah ceiling light fixture with this big rattan drum lamp. I think it really helped make the room, and and some 'rustic safari' texture: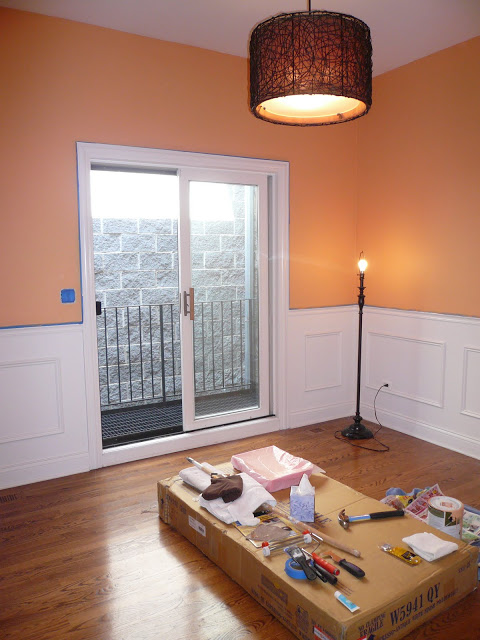 This type of work is always best done with hired labor… at six months pregnant, I was able to bribe my mom and sister to do the painting with frequent deliveries of wine and cheese ;>)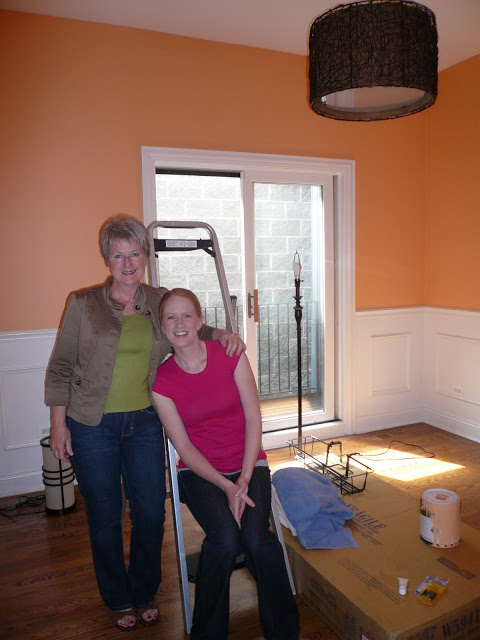 One of my favorite pieces in the room was this Dutailier rocker and ottoman I found on Craigslist for $50 (they can run upwards of $600 new). It was in really good shape and I liked the clean lines of the cushions, the only problem was that they were blue. Luckily, my sister also happens to be an excellent seamstress and offered to sew cushion covers for me out of this fun tropical floral fabric we found at Joann's: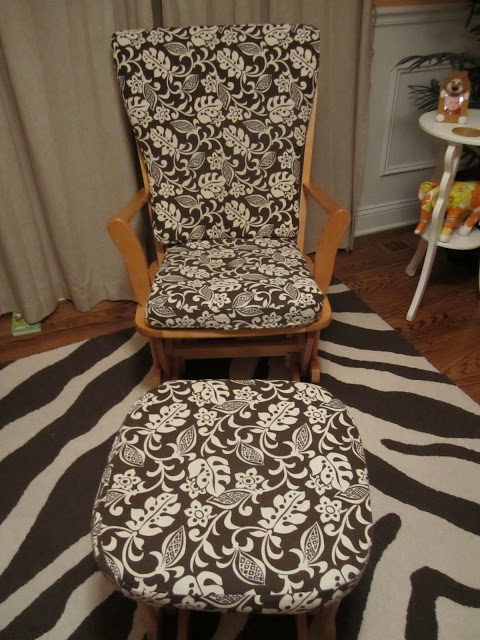 I really wanted a modern looking crib, but they are typically really expensive ($1500++). I happened to find this crib line called Baby Mod that is carried by Walmart. I really liked the mix of white and dark woods. It was $250 and hasn't fallen apart yet, so I think I got a good buy: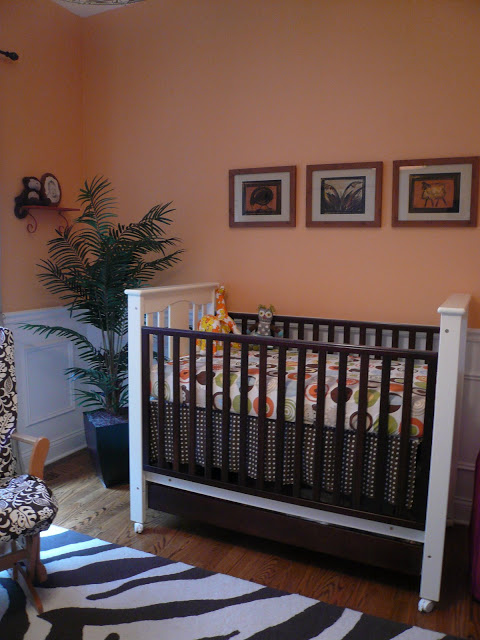 This bedding from Target was one of the first things I picked out for the room. The colors were perfect and I really liked the big polka dots and that the animals weren't too cartoony like they were on a lot of the safari bedding I saw. The bedding set was actually meant for a boys room, and the accompanying crib skirt and bumper were blue, so I just bought the sheets and paired them with a brown and white polka dot bumper and skirt from a completely different bedding set: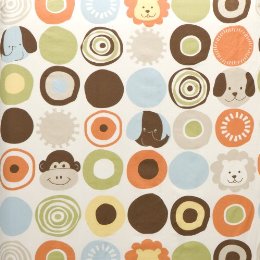 The art above the crib are three drawings we bought for $5 a piece from a woman on our trip to New Zealand before Stella was born. I found an inexpensive natural colored mat and rustic frame to put them in. I know you aren't likely to find a kiwi bird or a sheep on your next African safari, but I was improvising here, and I like that the pictures remind me of our trip!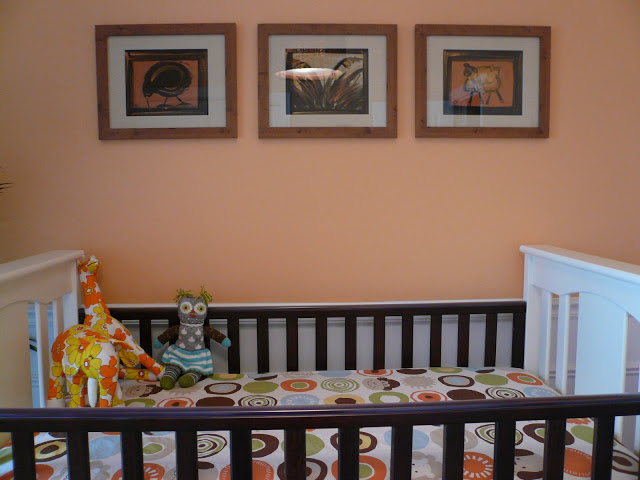 I really like the trend of using wall decals as easy (and cheap) art. I bought this one off of Etsy for $60 to put above the changing table: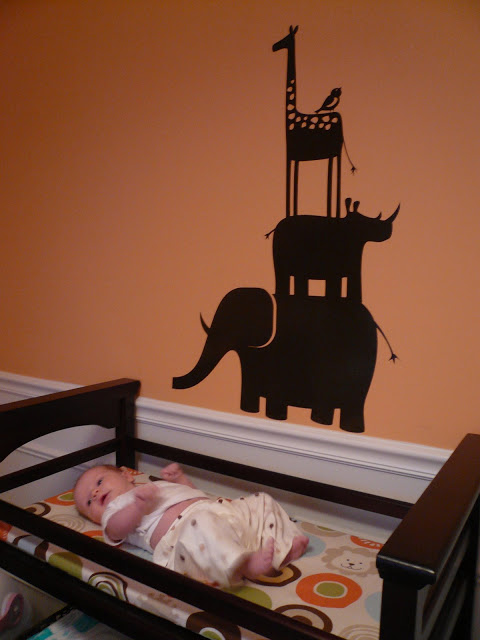 Finally, rather than buying new furniture, I freshened up an old dresser I've had since my first year out of college by replacing the knobs with these giraffes and zebras that I got for a few dollars at Target. Adding funky knobs is a fun and easy way to remake an existing dresser. Anthropologie carries a ton of cool knobs…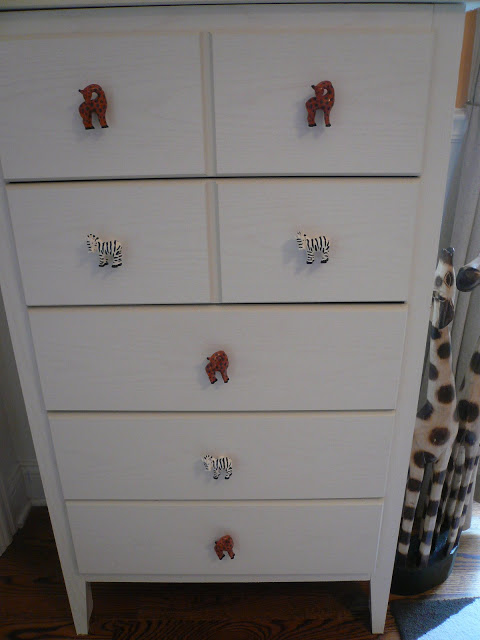 Oh, and this is how the nursery looks more often than not these days ;>)