Pop of Color: Improvised
January 04, 2011 | FILED UNDER: Uncategorized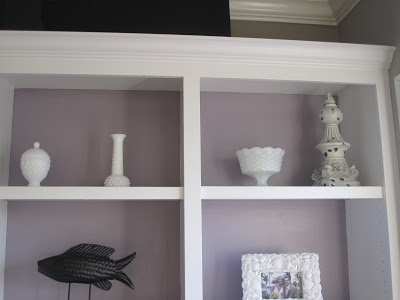 Here is a "before" picture of the built-ins. The toughest decision was figuring out the best color to paint the background. I eventually chose a dusty purple color to match the color of our living room rug, as well as draw out some of the purple in the painting below: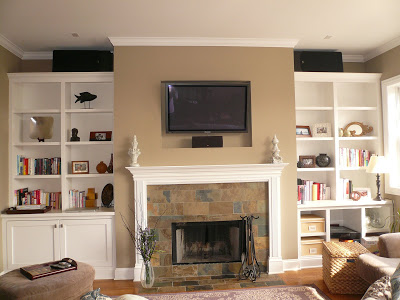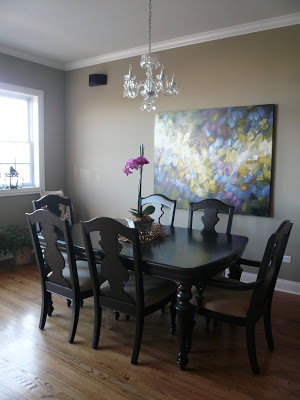 It didn't take more than a couple hours to remove the shelves, tape off the edges and paint two coats of semi-gloss paint (I chose Martha Stewart's paint color "Dusk"). I think for the time and money invested (I used less than 1/2 gallon of paint), the results were well worth it: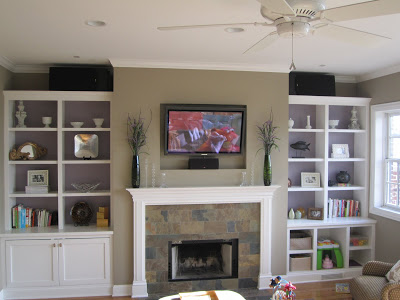 Still working on what to put in the built-ins to look best against the background…
… if it was up to me, I would get all white pieces like these to achieve the same effect as the Better Homes and Gardens pic. However, I haven't been able to convince Ross to let me buy all new 'chotskies' for the built-ins. I did however have these white vintage milk glass pieces (below) that I've picked up here and there at the Goodwill and Salvation Army. I've always liked the look of them and you can find them for $1-$2 a piece. Quite a bargain if I do want to fill my shelves with them! I think I need some larger pieces to balance these smaller ones I have… so I'll be on the hunt:
Just because I had extra paint, I decided to also paint the little display shelf (for lack of better words for what it actually is) we have in our hallway. I think it helps tie the look together. I picked the white orchid to stand out against it.