Black and White Office: Improvised
January 16, 2011 | FILED UNDER: Uncategorized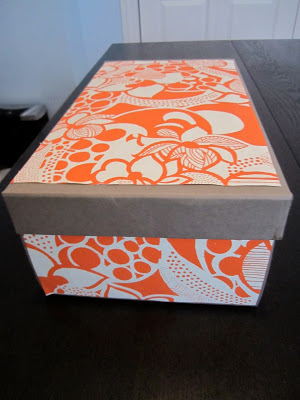 Here was attempt #1 at a black and white room, when it was still a guest room. The main piece it was built around were the 3 framed black and white flower prints (see more on that below). It seemed a little sparse and I didn't do much more to it before we had to convert it into the new office after Stella's nursery took over the old one. I sure do miss having a guest room though!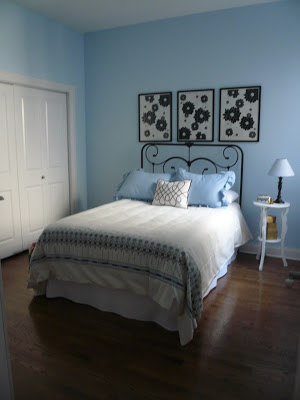 Here's the office as it looks today. I like it better than the guest room after adding the graphic rug and another accent color of orange. I think if I had painted the recessed panels on the closet black like the inspiration picture, that might have looked pretty cool: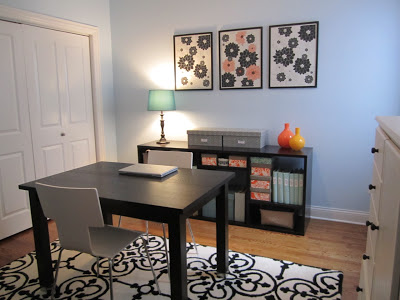 So, the "art" on the walls is about as cheap as you can get. They are 3 sheets of decorative paper that I bought for $2 a piece that I framed in inexpensive black frames. I get all my frames from Joann's Fabric when they have them 50% off, which they seem to do every couple weeks. If anyone else has a good source for inexpensive frames, let me know! To further incorporate the orange color into the room I got out an orange colored pencil and colored in some of the flowers in the middle print. What do you think?: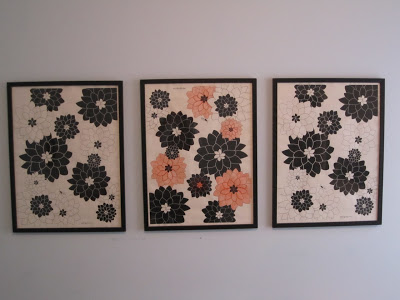 I found this storage unit on Craigslist for $200. It is a solid piece of furniture and has the perfect cubbies for storing files and boxes. I liked how the cubbies were irregularly spaced rather than a symmetrical bookcase look. I found some blue fabric colored boxes on sale at West Elm to use in it: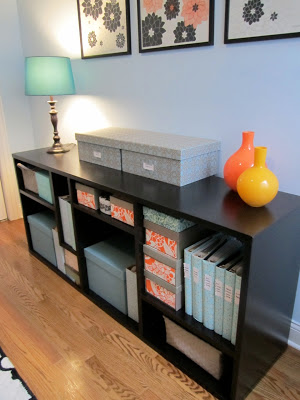 The rest of the boxes and binders were DIY to save on costs. I actually used more types of paper you can buy by the sheet for $2-4 a piece. You can find all kind of cool designs at paper / stationary stores like Paper Source. I think they are meant to be wrapping paper, but I've found lots of different uses for them. I'll make one of my next posts about ideas I've saved for covering things with paper and fabric scraps.
The binders on the right are just regular 3-ring binders we had left over from the college days, that I covered with a single piece of paper, folding it over the edges in the same way we used to cover our books with paper bags in grade school: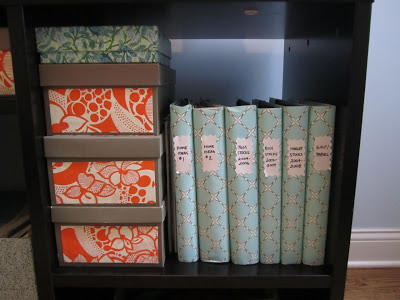 These storage boxes are just shoe boxes that I covered with a piece of paper on the top and front and back: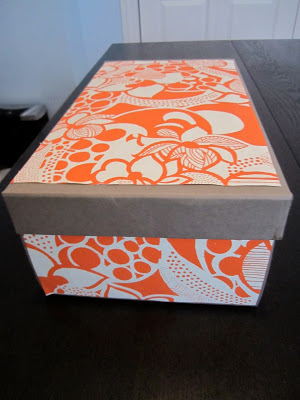 So the days of this office are numbered… it will soon be converted into Stella's 'big girl room' before Baby #2 arrives. More posts to come on ideas I have for that room. :>) In the meantime, we have to find poor Ross a place to do his work…