Ombre Paper Chain Wall Hanging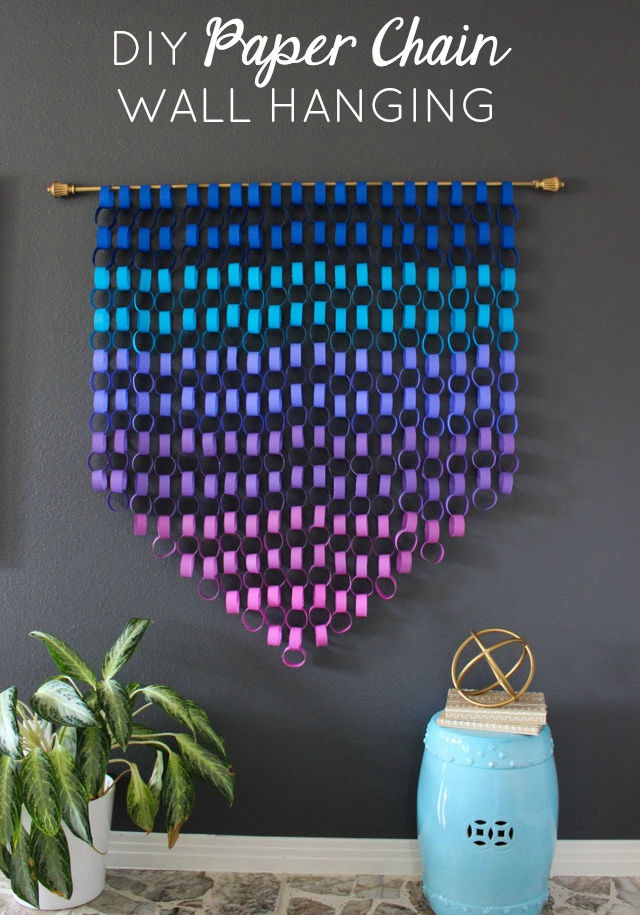 Introducing my new ombre paper chain wall hanging! In a lot of ways, crafting allows me to be a kid again. For those of you that are regular followers of Design Improvised, you know that the projects on this blog are often kids crafts disguised as adult crafts! Whether it is pom-poms, pipe cleaners, or colorful paper, there is nothing I love more than reimagining these materials in a modern, hip and sophisticated way. That's why I was so excited to partner with ASTROBRIGHTS® Papers to use their gorgeous, vibrant cardstock to create a modern paper chain hanging that would look awesome in any grown-up space!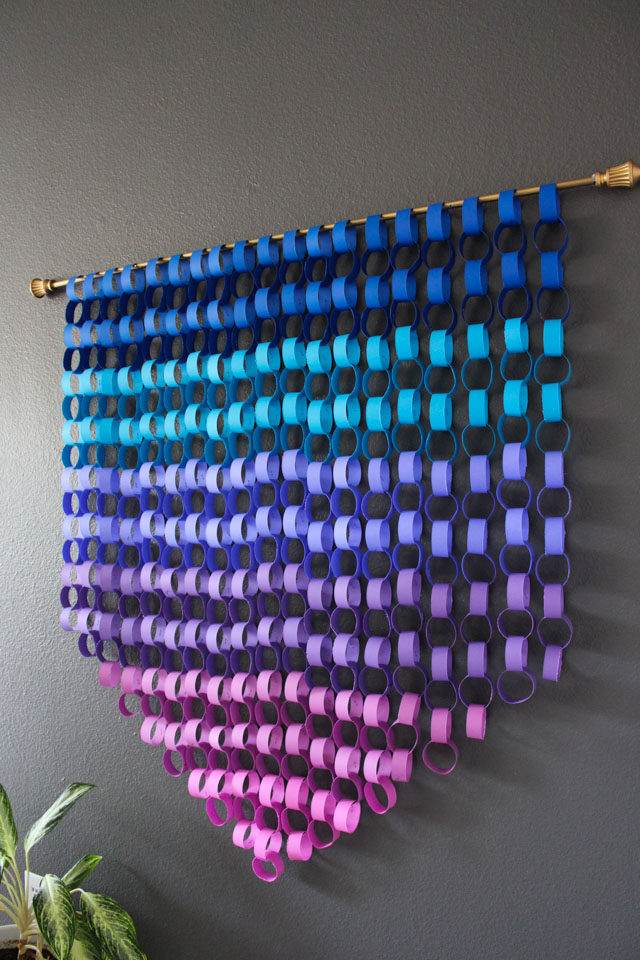 Teachers love using Astrobrights in their classrooms for school projects, but it has so much potential in the home too! Remember this woven paper wall art I made with their cardstock last summer? Yet another kid-inspired craft that resulted in one-of-kind art for my office!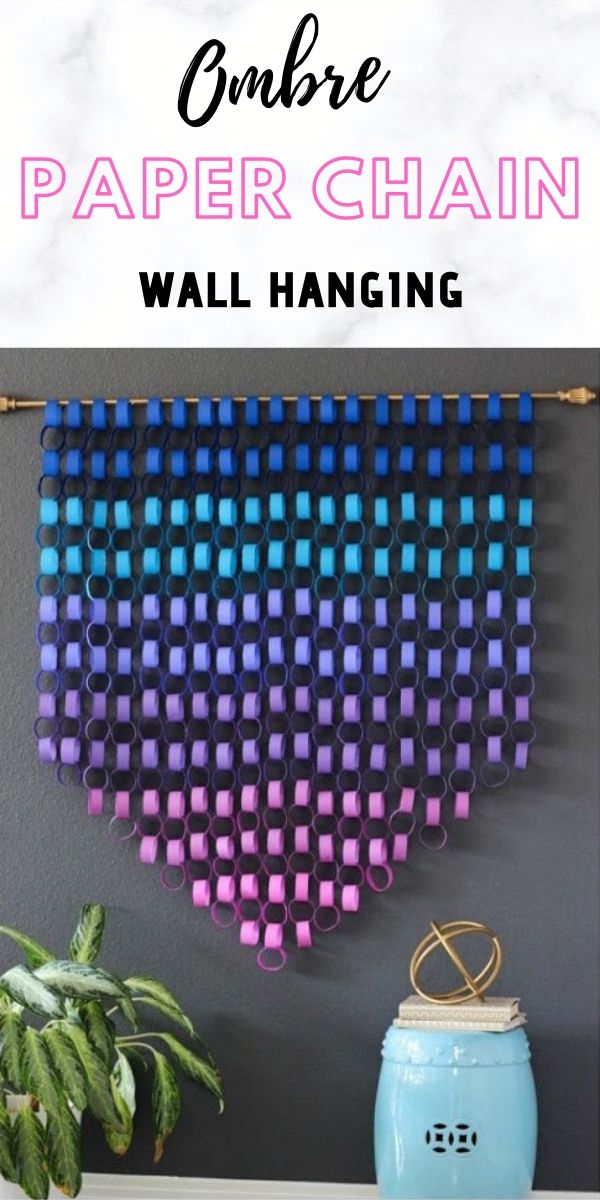 This paper chain wall hanging is another way to turn simple strips of paper into something beautiful. Its large scale and variety of colors can make a big impact on a bare wall in your home. It also adds a cool three-dimensional texture that you can't get from traditional framed artwork.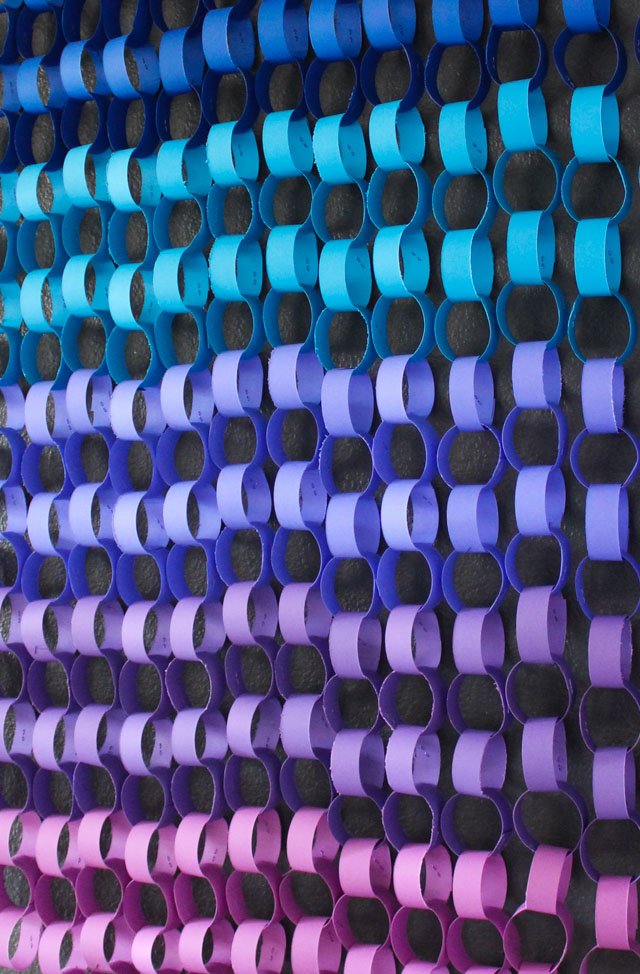 Supplies for Paper Chain Wall Hanging
To make it you need just a few simple materials – Astrobrights cardstock, a paper cutter, stapler and scissors. I used a curtain rod to hang it with! You could also use a long dowel. Here are the specific Astrobrights colors I used to create the ombre effect:
How to Make the Paper Chain Wall Hanging
Making the wall hanging is as easy as the paper chains you learned to make as a child. A paper cutter like my fringing tool is oh-so-handy in this project because it allows you to cut a bunch of uniform strips quickly rather than having to use a ruler and scissors.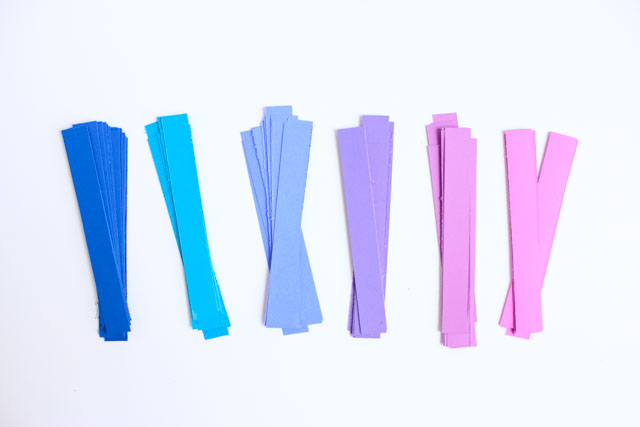 A handheld stapler also makes it super easy to create a chain without having to worry about glue drying. You can always slide the staple to the back of the ring so it won't be seen!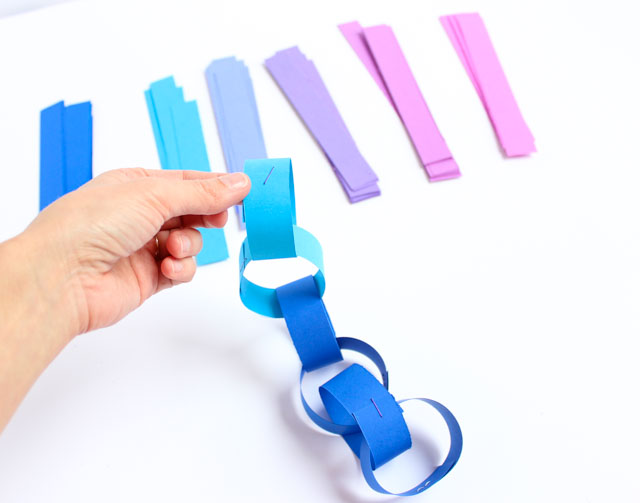 If you're a multi-tasker like me, then this is the perfect project to do while you're watching a favorite show on TV. Or have a family craft session and get your kids get involved in the paper chain making! Hazel, my 6 year old, is an expert paper chain crafter and is currently in the process of making a number of paper chains (using Astrobrights paper of course!) to divide her side of the bedroom from her sister's side. See, I told you there were infinite possibilities for these paper chains!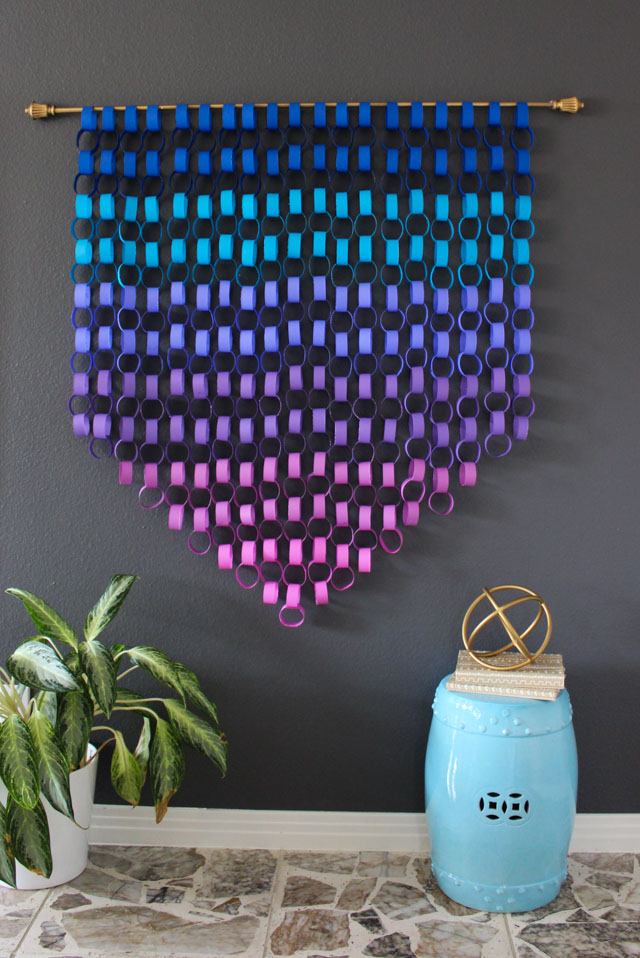 Ombre Paper Chain Wall Hanging
Download these printable instructions to make it even easier to make your own ombre paper chain wall hanging!
Materials
Wooden dowel or curtain rod
Instructions
Make 1" by 8" strips of cardstock. A paper cutter or fringe tool works great for this, but you can also use scissors. You will need 80 strips of each color (about 8 pages of each).
Starting with the first color, make a loop and staple it together. Add another piece of of the same colored cardstock through the loop and staple. Continue until you have 4 loops of the same color and then move onto the next color of cardstock in your ombre design. You have then made your first chain.
Make a second chain using the same steps as above, but this time add one less chain. Repeat this step to create another matching chain. Continue making a set of two chains, with one less loop than the previous chains.
Once you have made 19 chains, hang them from a wood dowel or curtain rod that is long enough to hold the chains. Adjust the paper loops as needed to hide any staples.
Recommended Products
As an Amazon Associate and member of other affiliate programs, I earn from qualifying purchases.
Head over to astrobrights.com for the step-by-step tutorial for making this paper chain wall hanging!
This post was sponsored by Astrobrights.